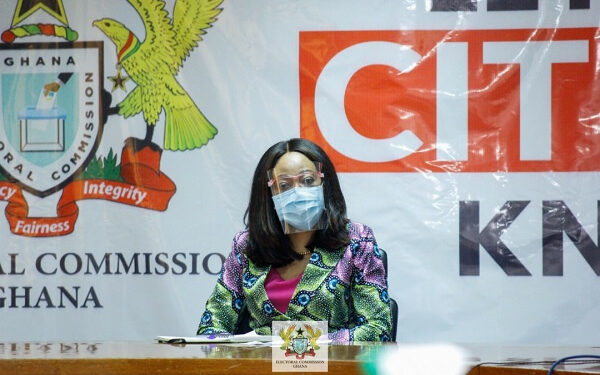 Presidential and parliamentary aspirants for the December 7, 2020 elections in Ghana are to file their nomination from October 5th to 9th, 2020, the electoral commission (EC) has announced.
Mrs Jean Mensa, the Chairperson of the Commission who disclosed this at the "Let the Citizen Know" media briefing in Accra said the cost of the filing for the Presidential slot is GH¢100,000, while that of the Parliamentary is GH¢10,000.
This is a 100 percent increase from the GH¢50,000 fee which was paid in 2016.
That of parliamentary aspirants, is a deposit GH¢10,000, same as what was paid in 2016.
Per the regulations of the EC, the filing fee or nomination fee that the aspirant pays is refunded after the election if he or she gets a certain percentage of the total valid votes cast in the election.
The nomination fee for presidential aspirants is a deposit of GH¢100,000. This is a 100 percent increase from the GH¢50,000 fee which was paid in 2016.
In the past, the EC used just two days for the filing of nominations but this year, it has been increased it to five days.
The chairperson of the EC explained that to ensure the security and integrity of the nomination process, each political party will be provided with a unique password to enable them access the password protected nomination forms, among other directives.
She said the EC has provided a detailed guideline on its website for filling the nomination forms.
The EC will receive the filled out nomination forms for the presidential and parliamentary aspirants from Monday October 5 to Friday October 9, 2020.
That of the presidential aspirants is to submitted at the EC head office by the aspirants themselves or their supporters and to be received by the EC chairperson who is the returning officer.