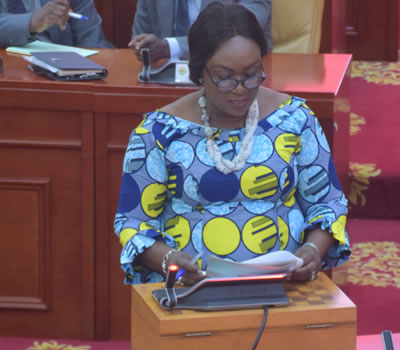 We local council of churches send our warmth felicitations to all Ghanaians through our beloved brother Jesus Christ of Nazareth.
We, members of the Awutu Senya East Local Council of Churches wishes to call on the Peace Council of Ghana to refrain from calling for the resignation of Honorable Mavis Hawa Koomson, Member of Parliament for Kasoa and Minister for Special Development Initiatives.

Our call is based on the law of natural principles and solidly grounded in the 1992 constitution of Ghana.
The MP as we, local members of the clergy know her is not of a violent character.

She has for several years remained a very calm and solemn political figure worthy of emulation in our society.

But the facts of the matter are such that she was caught up within the midst of thugs who were wielding weapons and without the presence of her personal bodyguard.

Suppose her personal bodyguard was even around, she, the MP/Minister also has a sole responsibility over her life and possesses every right to defend herself.
There are many examples of political figures who have been gruesomely murdered in our country.
Sadly, we have not witnessed any logical conclusion of those murder incidences.

It is therefore astonishing that such honorable personality has come under vilifying condemnation from civil society organizations including the National Peace Council.
The National Peace Council, we suggest should rather rally behind Honorable Hawa Koomson who has no record of criminality and call for a thorough investigation into the matter. We desire they'd have even called on the various security agencies to be up to asked especially the Kasoa Divisional police commander who has exhibit a gross level of incompetency.
It is enshrined in the constitution that self defense is allowed.

We therefore state unequivocally that, Hawa Koomson must not be ripped off her ministerial position.
She has worked harder than any minister under the current dispensation and even deserves to be commended.
We hereby call on all Ghanaians to remain calm during this vital exercise carried out by the Electoral Commission and any other political events that will follow.
Ghana is a peaceful country.

Signed
Rev William Baako
Chairman – Kasoa Ofaakor Local Council of Churches
0244440357