Byron is a health and safety coordinator at Amazon, is active within Amazon's Black Employee Network (BEN) and helps both new and other members of his community integrate comfortably.
Across the UK, Amazon employees are working to improve their local communities in different ways. Like Gillian Maxwell, who organized charity kilt walks, our employees are making a positive impact through their passion, enthusiasm and community spirit.
This month we spoke to Byron Taylor, a Health and Safety Coordinator who has played a pivotal role within the Black Employee Network (BEN) at our fulfillment centre in Coventry. Beyond this, Byron has dedicated his time outside work to set up the Settlement Support CIC, an organization that helps immigrants navigate the process of integrating into UK society.
Supporting colleagues
Although Byron's main role is focused on health and safety at Amazon, he also works within the Black Employee Network (BEN) as a point of contact for those looking to engage with or join the affinity group. Amazon's Black Employee Network (BEN) is an internal organization within Amazon whose mission is to recruit, retain, and empower Black employees, and Byron helps employees understand the personal and professional benefits of joining the network.
"I'm the contact for BEN during my shift, so while I'm working I often interact with other associates and promote why it's important to join the network and the benefits that come with being a member," said Byron.
"I advocate for us to join together and support each other. This goes beyond supporting black people at work, it's about building a broader culture of diversity and inclusion, that's the message I want to help spread."
Byron's message to his colleagues is that within Amazon, it is possible to grow your career and reach new heights.
"I started at entry-level, so it's important to show how possible growth is here. Everyone has to start somewhere, and there are opportunities to make a difference inside Amazon and even outside of it in your community. You have to take these opportunities and make your life an example of what is possible. There will always be challenges, but a lot is within reach."
As well as being part of the BEN network, Byron has worked on several different committees within Amazon, including the Sustainability Committee, Health and Safety Committee and the Community Committee at the fulfillment centre in Coventry. Working with the Community Committee proved particularly useful to Byron while he worked on the Settlement Support CIC, as the support and guidance he received allowed him to develop the organization, and source additional supporters.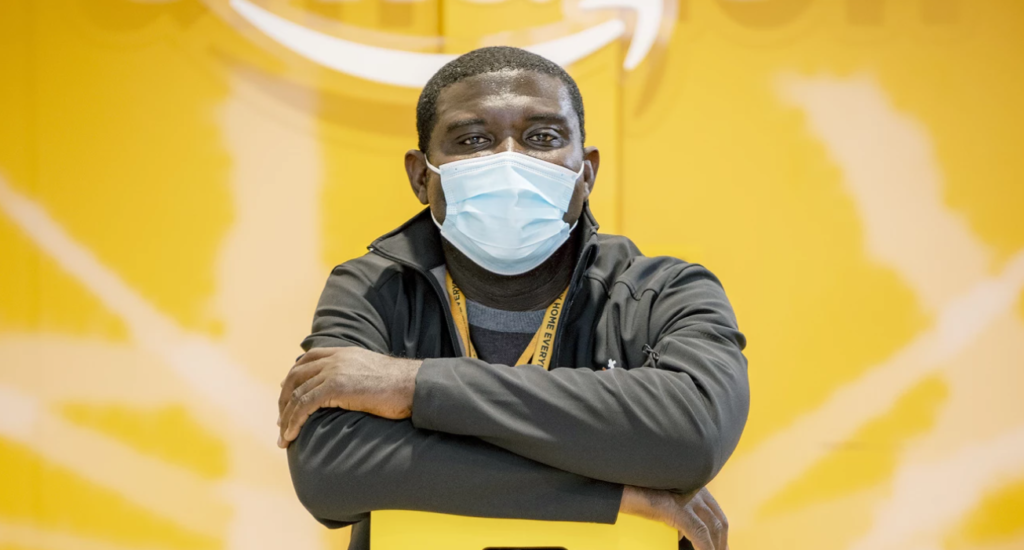 Supporting integration for immigrants
Byron is helping immigrant families and individuals by establishing the Settlement Support CIC, an organization that helps new residents navigate the complex process of integrating into British culture and society – something he has had personal experience with.
"When I came to the UK I went through the process of getting my immigration documents and finding a job. All the experiences I had during this period made me think about others, mostly because I was very fortunate – I had the opportunity to go to school and study up to university level," Byron explains. "When I experienced challenges, I asked myself about the people who may not have been as fortunate as I was."
Byron started to think about how he could support those immigrating to the UK in his community and drafted a proposal for a support mechanism for people who might struggle with the administrative processes that he went through.
"I started discussing the plan with other people and was getting a positive response. The idea got enough interest and support that I was eventually able to bring in an advisor from Coventry University as well as two Amazon employees to help shape it, they are now on the board of trustees."
The Settlement Support CIC provides information, guidance and assistance to those who are looking to start new lives in the UK and those living in the UK who may need some guidance to navigate the complex experience of integration. This includes practical help with filling out forms, explaining council services available in the area as well as quarterly skills development webinars for minorities, bi-yearly UK residence information forums to update beneficiaries on immigration news and discussion forums on topics like finance management.
"These services are important because there are people in this country without credit or debit cards. There are people in this country who do not know how to access the NHS. Another issue with integration that the UK Parliamentary Select Committee on Integration has flagged is that speaking English is a key factor for people to integrate. Some of our clients come from backgrounds where they haven't spoken English at all, so communication can be a problem."
Byron and the Settlement Support CIC look at how to overcome these hurdles by helping people learn English and subsequently build the confidence to be able to access other services that they need, particularly by increasing access to learning resources.
"One of the things we've been working on is an app that will teach English to newcomers in a way that is customised to their specific learning needs."
"As you can see, integration is not only about getting your residence permit or your passport, it is more complex than this. There are emotional and psychological challenges, sometimes there is a difficult journey to finding employment. Beyond these, we also want to raise awareness among Black and Minority Ethnic groups and other disadvantaged immigrants, and in particular, awareness of UK government policies that might impact them."
Recognition from Amazon
Having raised awareness of the Settlement Support CIC within the Black Employee Network and the Communities Committee at Amazon, Byron's work received both attention and support. He was even recognized in the BENtastic awards, an annual event organized by Amazon to bring attention to those who have excelled as part of the Black Employee Network.
Byron was chosen as the winner from 586 submissions across 25 Amazon sites and he is hopeful that his success will lead to increased interest in the work that he does, both for the Black Employee Network and for the Settlement Support CIC.
"It really opened us up to a lot of attention and I don't underestimate the impact of networking. I'm hoping the BENtastic awards will bring additional support to help us grow."
In addition to the BENtastic awards, Amazon has supported the Settlement Support CIC with a £1,000 donation.
"The former chair of the Community Committee, Kerri Bellis has been extremely supportive, as is my site's General Manager, Paul Roberts. This kind of recognition and encouragement shows me that there is support out there for our work and our beneficiaries."
Following Byron's success at the BENtastic awards, Ramona Williams, DEI Change Manager at Amazon Logistics, added that:
"The work undertaken by Byron and his team is truly inspirational. The 'That's BENtastic' Campaign uses stories to recognize and award those who are advocates in fighting for equitable treatment for Black people within our communities and those who are creating new paths to support those in that community to succeed."
"It is important that we continue to push for social and systematic change and fairness of treatment for all races within the UK. We can only do this by each of us taking personal responsibility for that change and educating others on how we can do better. Byron is driving real change in this area and is a true role model to others. We at BEN are proud to have been able to share his story and award him with the programme's first-ever 'That's BENtastic' trophy."
Byron's work has not gone unnoticed by his partners at the Settlement Support CIC. One of his key partners – the Settlement Support CIC's co-founder, Kofi Folson, said:
"Byron has been a champion of progress and great leadership here at Settlement Support. As a volunteer-led organization, it can be challenging to recruit people who are willing to support activities. However, the contribution of Byron in finding, pushing and committing the right resources to support the agenda of the organization has been exceptional. He has been instrumental in pursuing other organizations that are willing to support Settlement Support initiatives within the community. Our recent, yet-to-be-announced collaboration, with Coventry University Engineering School is one such great example."
Byron has expressed how important the support is from Amazon,
"Amazon is an organization that a lot of people want to work for. I targeted Amazon as my ideal employer because I thought there were opportunities to make a difference. I was right; now I'm on the inside I can see this is possible because of Amazon's culture," Byron says. "Amazon's structure of affinity groups, employee networks and other support mechanisms has made it easier to turn my idea into a reality and I'm so proud to be a part of that."