Excellent Glory International School (EGIS), a private basic school located at Adweso-SSNIT at Koforidua in the Eastern Region, has celebrated its 10th anniversary with a call on parents to ensure they give their wards the necessary attention in all areas of character development.
The occasion also witnessed the graduation of its sixth batch of 20 pupils from Kindergarten 1 into Kindergarten 2.
The event climaxed with the cutting of the school's 10-year anniversary cake by Madam Juliet Berubu, the proprietress, with the support of management and some dignitaries.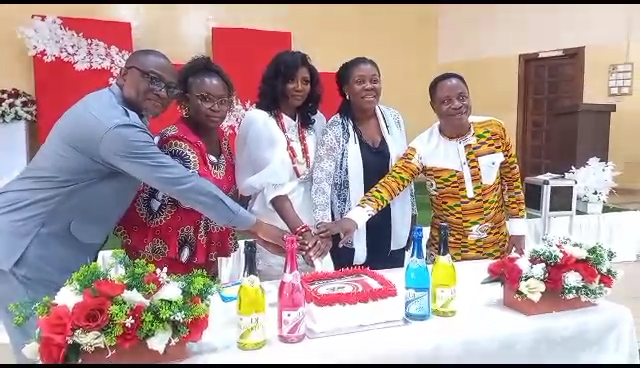 The school, which was established in 2013 with a boy and a girl, can now boast of over 100 pupils, from the creche to class six (6), with over 20 teaching and non-teaching staff and has evolved into a hub of inspiration, innovation and intellectual growth.
The graduation ceremony was held under the theme, Strengthening Quality Education: The Role Of Parents.
Delivering the keynote address, Mr. Edward Kwame Adjepong, Head Master of Kwahu Ridge Senior High Technical School, noted that education is a powerful weapon for changing lives and shaping the future.
He appealed to parents to assist their wards in studying at home, provide them with all their basic educational needs, and visit their schools periodically to discuss the child's learning.

An educationist and CEO of Gloham Consult, Mrs. Gloria Ami Amewode, commended Excellent Glory International School for contributing to preparing high-quality human resources equipped with 21st-century skills in a bid to help solve the world's problems for the past year through the delivery of quality, relevant and holistic education in Ghana and beyond.

On her part, Madam Juliet Berubu, the proprietress of Excellent Glory International School, established in an interview with NET2TV that education encompasses academic rigor, character development and the nurturing of individual potential and these strategies are what have brought the school this far.
She said the journey over the past ten years has been marked by the support of the teachers and parents and the unwavering determination of the students.
She is of the view that the government is committed to doing well by bringing together several initiatives to help groom both private and public schools to raise standards.

She entreated parents to ensure their children have the resources, attention and focus they need to learn and thrive and implored them to groom their children in all areas of their growth.

Speaking to Net2tv in an interview, Mrs. Gloria Ami Amewode, advised parents to consider emotional parental responses to avoid child abuse, rape, and crime and encouraged students to learn.
She urged all to acknowledge the fact that the provision of quality, relevant and holistic education is a collective responsibility, adding that all must therefore play a part in ensuring that the future generation obtains high-quality, relevant and holistic education.