A South Korean police officer, under investigation over the deadly Halloween crush in Seoul, has been found dead at his home in a suspected suicide.
The 55-year-old, identified as Inspector Jeong, was an intelligence officer working with the local police.
Jeong was a suspect in an investigation over the police's response to the crush, which tragically killed 156 mostly young people, and injured 196.
He was suspended on Wednesday, after allegedly covering up police failings.
Jeong was accused of ordering colleagues to delete an intelligence report – written ahead of the Halloween event – which warned of the possibility of a serious incident taking place.
Local media reports say a family member found the officer at 12:45 local time at his home in northern Seoul on Friday. Police are investigating the circumstances of his death.
Most of those killed in the crash on 29 October were celebrating Halloween in the nightlife district of Itaewon for the first time since the Covid-19 pandemic.
Some accounts say more than 100,000 had descended on the area that evening.
The first call to police from Itaewon came at 18:34 local time, several hours before the deadly crush took place in an alley off the main road.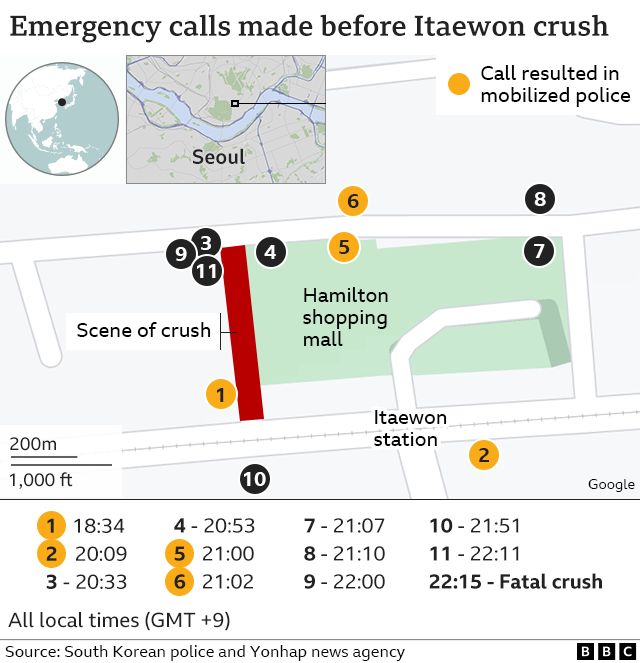 Authorities said they had 137 officers on the ground at Itaewon that night. But they were outmatched by the many thousands that had flocked to the area.
The entire local police department and fire service are currently being investigated for their role in failing to prevent and respond to the deadly crush.
The victims' parents and loved ones have pushed for accountability over Seoul police's response and preparation ahead of the large event in the nightlife district of Itaewon.
South Korea is in mourning, with many young people feeling let down by authorities.
"I felt sad at first. But now I'm angry. I'm here because this incident could have been prevented. Those people were close to my age," said 22-year-old university student Kang Hee-joo.
On 5 November, thousands of people took to the streets for vigil-protests near Seoul City Hall Plaza.
On stage, speakers took turns to rail against the government in speeches interspersed with mournful song performances and prayers recited by Buddhist monks.
"Although the government clearly has responsibility, it is looking for perpetrators from irrelevant organizations… the incident occurred because the government did not play its very basic role," said one speaker.
"Step down, Yoon Suk-yeol's government! Step down, Yoon Suk-yeol's government!" the crowd chanted, waving their candles and placards.
Source:bbc.com