The Board, Management and staff of the Korle Bu Teaching Hospital have expressed their gratitude to the Vice President, Dr. Mahamudu Bawumia, and the leadership of the Bank of Ghana, for the various roles they played in the acquisition and installation of a Catheterization Laboratory at the nation's premier health facility.
The one million dollars ($1m) lab, the most advanced Cath Lab in the country, and its accompanying Big Detector, dyna CT and roadmap software and 3D workstation – essential for the requirements for achieving accurate and effective minimally invasive treatments – was procured and funded by the Bank of Ghana after an appeal by the Vice President for the Bank to consider funding the acquisition of such essential medical equipment as part of its Corporate Social Responsibility.
Officials of the Korle Bu Teaching Hospital say Ghana is currently the only country in the West Africa subregion offering advanced minimally invasive endovascular treatments (performing brain surgeries without cutting the skull) for conditions such as brain aneurysms, and the acquisition of this Lab is expected to reduce the incidence of patients being referred abroad for further tests and treatments.
By investing in such advanced medical facilities, Ghana can also attract and retain skilled medical professionals, improve the training of local doctors and enhance the quality of care provided to patients.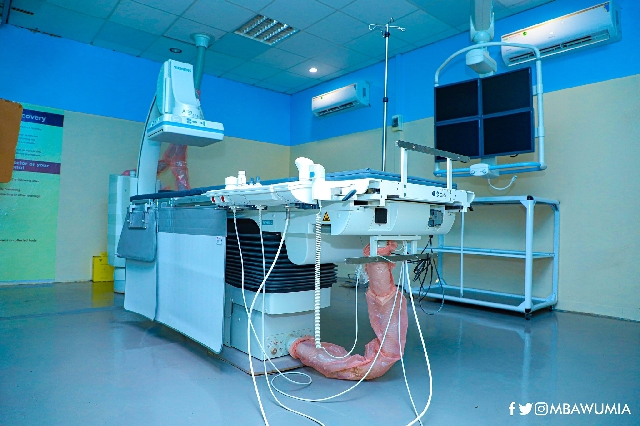 Speaking at the commissioning of the Lab in Accra on Tuesday, 25 April 2023 the Chief Executive Officer of the Korle Bu Teaching Hospital, Dr Opoku Ware Ampomah, said the Management of the hospital has been working assiduously to acquire, maintain and improve upon existing facilities, with investments into various aspects of the healthcare space through strategic partnerships.
"This investment by the Bank of Ghana in sponsoring the full cost of the Catheterization Lab is a case in point. Thank you so much Bank of Ghana. This will greatly enhance our capabilities to provide cardiac catheterization, stenting for various conditions and emergency treatment of strokes and thromboembolic phenomena and other life-saving interventions.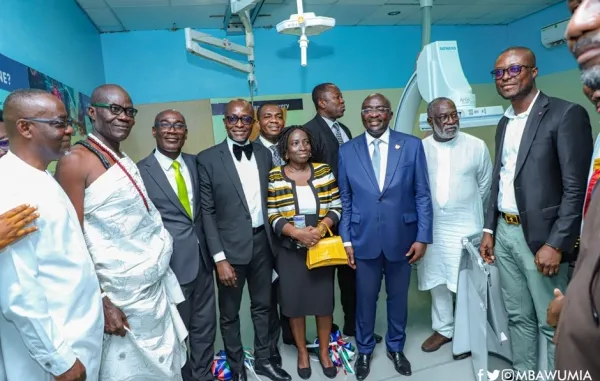 Describing Dr. Bawumia as "a friend of Korle Bu", Dr. Ampomah recalled the instrumental role played by the Vice President, from engaging the Governor of the Bank of Ghana to see the acquisition of the Catheterization Lab as an essential item that could fall under the Bank's Social Responsibility obligations, through regular visits and updates during the installation process, to the commissioning today.
"Your Excellency, Korle Bu Hospital is indeed very grateful to you for your advocacy and personal interest which has brought the project to reality."
Speaking at the launch, Vice President Bawumia challenged hospitals and other medical facilities across the country to partner with the private sector to provide and maintain essential equipment in order to help the facilities offer top-notch care to patients.