Stonebwoy has expressed his unwavering support for this year's Green Ghana Project—an initiative encouraging afforestation.
As part of his voluntary mandate, the multiple award-winning and internationally acclaimed musician will leverage his influence to garner monumental support for the 2022 edition of the nationwide project. He made the affirmation when he paid a courteous visit to the Ministry of Lands and Natural Resources led by Hon. Samuel A. Jinapor on Tuesday, June 7, 2022.
The campaign's theme for this year is "Mobilizing For A Greener Future," and it will commence on Friday (June 10) with a massive drive to plant twenty (20) million trees in Ghana.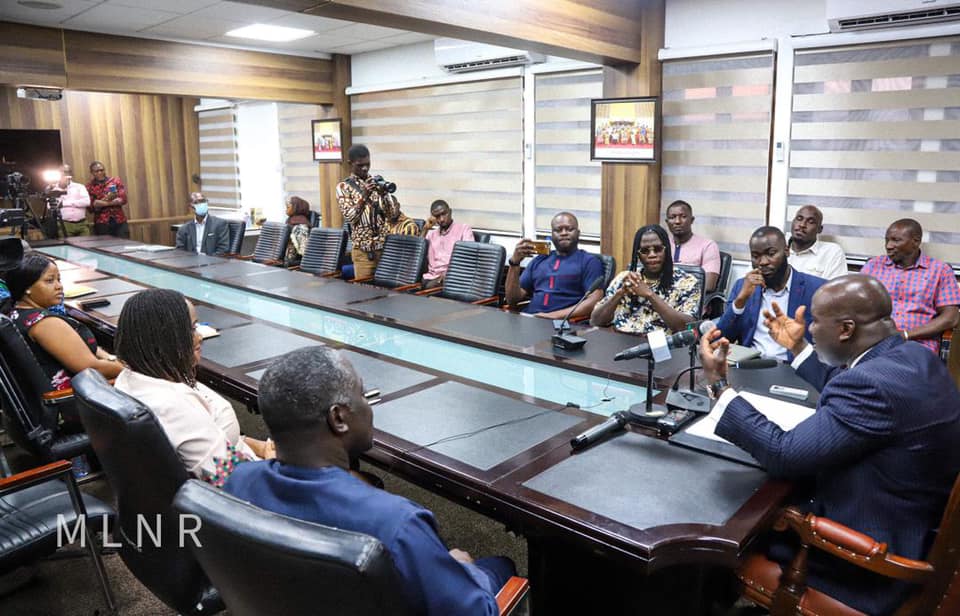 Speaking at the brief meeting, the BET Award-winner commended the Ghana government through the ministry for the project and also said with a conscious collaborative effort by Ghanaians to plant more trees, "we can preserve and protect the country's forest cover and the environment in general."
The dancehall icon pledged to leverage his status to raise awareness about the Green Ghana project and generate interest. He said: "I have been a committed ambassador for the protection of the environment and I will go to every length and breathe to ensure that the government succeeds at restoring the country's lost vegetative cover."
Hon. Samuel A. Jinapor commended Stonebwoy for using his music to promote a good cause. While eulogizing his patriotic gesture, the Minister reminded Ghanaians that environmental protection is a "national undertaking" that should be openly and widely supported. He urged Ghanaians to participate in the 2022 Green Ghana project and contribute to its success.
The Green Ghana Day was introduced in 2021, by H.E. Nana Addo Dankwa Akuffo-Addo as part of an aggressive national afforestation/reforestation programme to restore the lost forest cover of Ghana and to contribute to the global effort to mitigate climate change. The maiden edition was held on June 11 of 2021, where an estimated 7million tree seedlings were planted across the nation.
Meanwhile, at the 2022 Vodafone Vodafone Ghana (VGMAs), Stonebwoy was honored with 'Vodafone Green Award for championing environmental awareness and sustainability through his music. He received a recognition plaque and a sum of GHS 10,000 with his song 'Greedy Men' which discusses socio-economic challenges that affect communities including weak leadership, illegal mining, corruption and child labour.