Hundreds of nursing trainees from the Sunyani Nursing and Midwifery Training College have hailed the President of the Republic, Nana Addo Dankwa Akufo-Addo, for restoring their trainee allowances which were cancelled by the erstwhile Mahama-led NDC Government.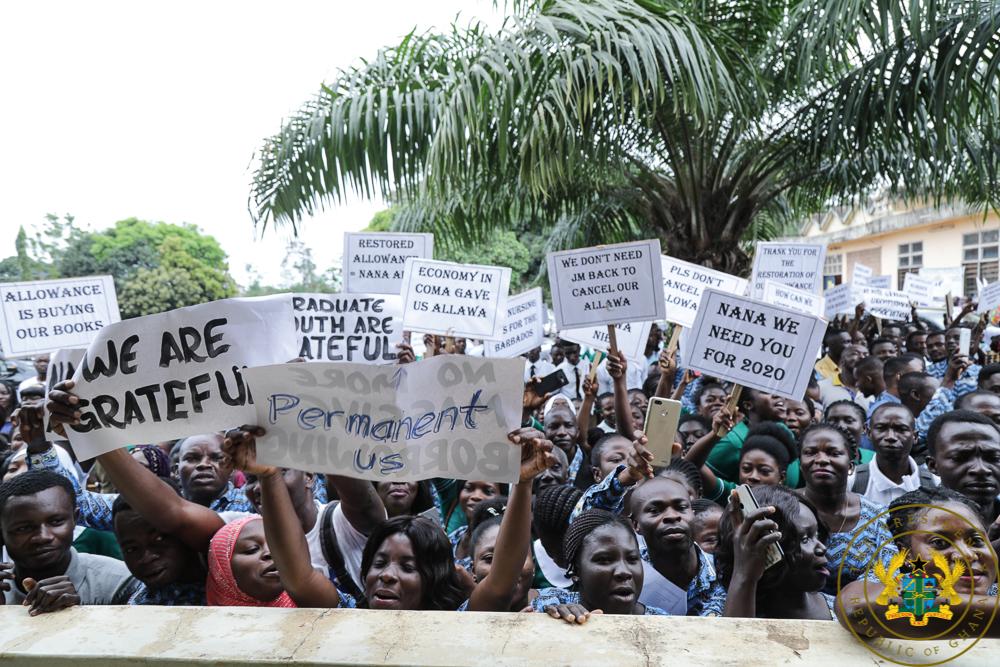 Wielding placards with inscriptions such as "we don't need JM back to cancel our allawa", "we are happy for the allawa", "Nana nie, allawa nie", and "our parents thank you for allawa", the nurses mobbed President Akufo-Addo, prior to his meeting with the Bono Region House of Chiefs on Monday, 7th October, 2019.
Thus far, 51,130 nursing trainee students are receiving allowances in the nursing training and midwifery colleges across the country, with some GH¢410 million disbursed so far in twenty (20) months.
It will be recalled that nearly two years ago, on 10th October, 2019, President Akufo-Addo, speaking at the Sunyani Nursing and Midwifery Training College, at the restoration of the nursing trainee allowances, indicated that the decision to restore the nursing training allowances was not mere political rhetoric, campaign talk, and neither was it to meant deceive nursing trainees in order to get their votes.
According to President Akufo-Addo, "it was much more than that. We believed, and still believe, that Ghana needs all the nurses and healthcare workers she can get, if the nation is to have a solid, world class healthcare system, and we think it necessary to provide the relevant incentives to make that possible."
Bemoaning the cancellation of the allowances, in 2014, by the government of the former President John Dramani Mahama, President Akufo-Addo noted that this singular action brought untold hardships to the thousands of nurses and midwives in the country, who depended on it for their studies and for their welfare.
The cancellation, according to the President, left many trainee nurses demotivated and demoralised.
"The New Patriotic Party and I heard your cry, and assured you of the restoration of these allowances, if we won the election. By the grace of God, and by the generosity and trust of the Ghanaian people, I am here, today, as President of the Republic, ready to fulfill the pledge we made to you," he said, to a rousing applause from the packed auditorium of the school.