Authorities in the United States city of Los Angeles have arrested a suspect in connection with the murder of a sheriff's deputy who was ambushed and fatally shot at a traffic stop, leading to a reward of $250,000 being offered for information.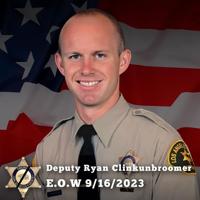 Ryan Clinkunbroomer, 30, was shot as he sat in his patrol car at a red light just outside a sheriff's station on Saturday evening in the city of Palmdale, about 90 kilometers (55 miles) northeast of Los Angeles on Sunday.
A 29-year-old man was arrested early on Monday after barricading himself inside a home in the city of Palmdale for several hours before surrendering with weapons, Los Angeles County Sheriff Robert Luna told a news conference.
Officials identified the arrested suspect as Kevin Cataneo Salazar, of Palmdale.

Luna said authorities have not yet determined a motive for the killing of Deputy Clinkunbroomer and described the situation as "fluid", saying there could be more arrests.
The suspect's mother, Marle Salazar, told the Los Angeles Times her son was diagnosed as a paranoid schizophrenic about five years ago.
"My son is mentally ill, and if he did something, he wasn't in his full mental capacity," she said in an interview with the paper.
Clinkunbroomer had just left the sheriff's station in Palmdale, a city of more than 167,000 residents in the high desert of northern Los Angeles County, when he was shot and killed. A passerby spotted him and alerted station personnel.
The department later released grainy surveillance video of a dark sedan that pulled alongside the patrol car in the moments before the shooting.
Early Monday, a SWAT team from the department's Special Enforcement Bureau served a search warrant at the residence and called for all occupants to come out, the sheriff said.
Family members came out, but the suspect barricaded himself inside, he said. Deputies used de-escalation techniques including negotiators, before they "deployed chemical agents" and the suspect surrendered, Luna said.
He did not identify the weapons that were seized.
Marle Salazar said she called deputies at least twice in the past, asking for help when her son refused to take his medication and grew aggressive towards himself. She said he had never hurt anyone before and his aggression was always self-directed.