China has launched drills in the western Pacific involving its Shandong aircraft carrier and dozens of warplanes, according to Taiwan's defense ministry, in exercises analysts described as Beijing's "largest" such maneuvers in the region.
The report came on Wednesday as Beijing, which views self-ruled Taiwan as its territory, stepped up military and political pressure on the democratically governed island in a bid to assert its sovereignty claims.
In a statement, the Taiwanese defense ministry said it tracked some 35 Chinese warplanes, including J-10 fighters, around the island early on Wednesday. About 28 of them flew into the southwestern corner of the island's air defense identification zone, or ADIZ, it said.
The ministry also released an undated photo showing the Shandong, which entered the western Pacific for training on Monday, being monitored by a Taiwanese Keelung-class warship.
There was no immediate comment from China on the drills.
But the country's Eastern Theater Command, which organizes drills around Taiwan, said on Wednesday that an "aviation unit" had carried out training "recently", with a range of "thousands of kilometers.". Separately, a senior official familiar with security planning in the region said more than 20 Chinese warships, including Type 055 destroyers, sailed through the Bashi Channel and Miyako Strait into the Pacific on Wednesday.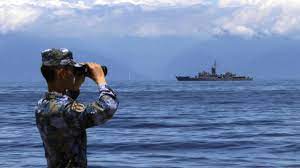 The official said China wants to show the US "that they have total control of the west of the first island chain—a reference to the area that runs from Japan through Taiwan, the Philippines and on to Borneo, enclosing China's coastal seas.
The Financial Times, a British newspaper, meanwhile, quoted analysts describing the drills as China's "largest-ever maneuvers with an aircraft carrier in the western Pacific".
Su Tzu-Yun, an analyst at the Institute for National Defense and Security Research in Taipei, told the newspaper that "this is by far the largest number of ships it has seen training with any Chinese carrier so far".
Su said the Liaoning and the Shandong, the two carriers the People's Liberation Army (PLA) Navy has in service, have conducted several training missions in the western Pacific since 2021, but only with small groups of ships.
In recent months, the US and its allies have increased "freedom of navigation" crossings of both the Taiwan Strait and the disputed South China Sea to reinforce that both are international waterways.
For its part, China has been increasing its military operations around Taiwan, slamming what it calls "collusion" between Taiwan independence forces and the US.