Rescuers are once again searching for people trapped under rubble in Turkey after another earthquake hit the country, killing at least six people.
A 6.4 magnitude tremor struck the city of Antakya near the border with Syria, where massive quakes devastated both countries on 6 February.
The earlier quakes killed 44,000 people in Turkey and Syria with tens of thousands more left homeless.
Buildings weakened by those tremors collapsed in both countries on Monday.
Turkey's disaster and emergency agency says the 6.4 earthquakes occurred at 20:04 local time (17:04 GMT) at a depth of 10km (6.2 miles).
This was followed by a 5.8 aftershock three minutes later and 31 subsequent aftershocks that were not as severe.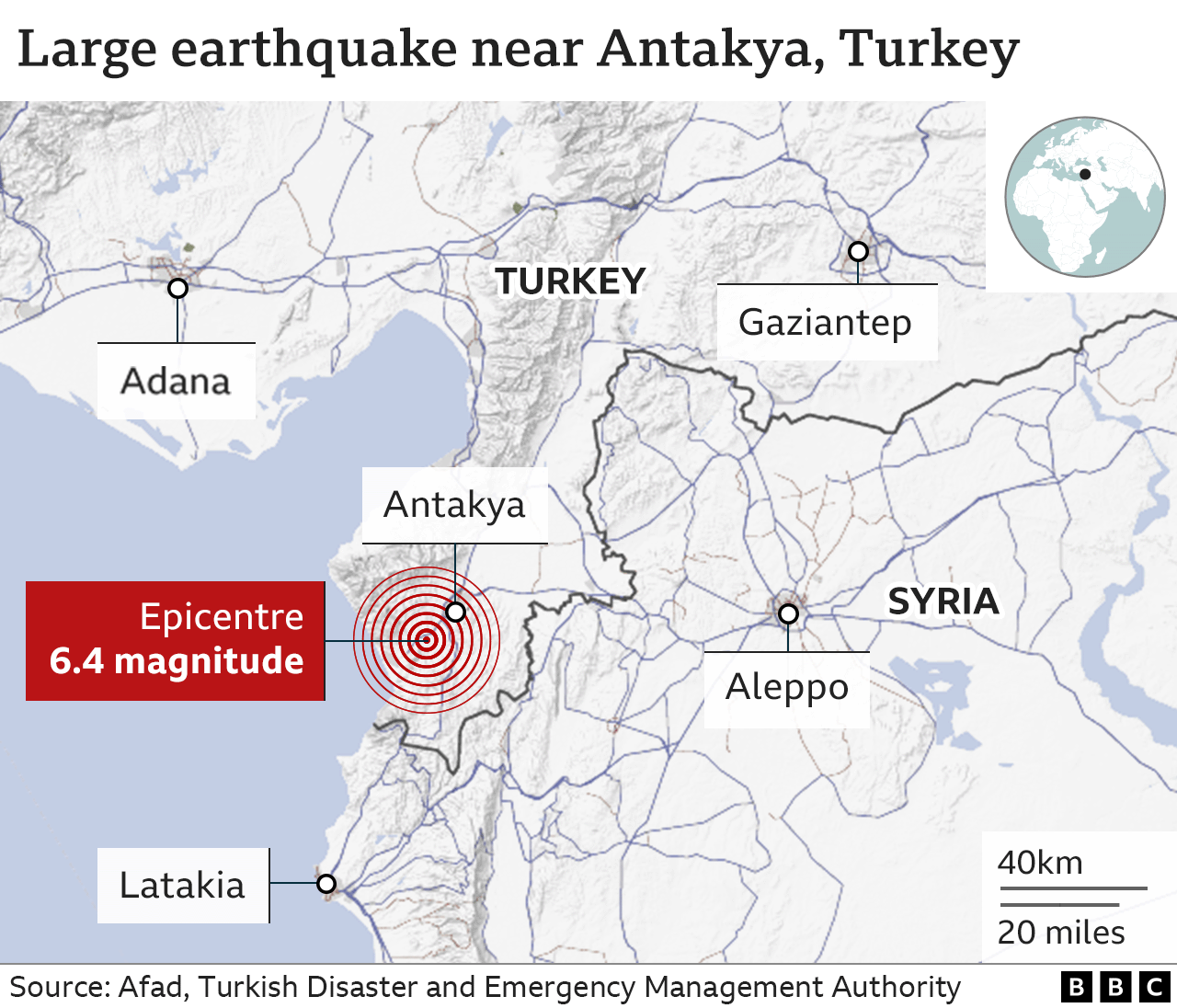 The health minister, Dr Fahrettin Koca, said 294 people have been injured – 18 of them seriously.
It's thought the death toll has been relatively low this time because the earthquake struck in an area that was largely empty after it was badly hit by the 6 February quake.
Reports from the city of Antakya spoke of fear and panic in the streets as ambulances and rescue crews tried to reach the worst affected areas where the walls of badly damaged buildings had collapsed.
"I thought the earth was going to split open under my feet," local resident Muna al-Omar told Reuters news agency, crying as she held her seven-year-old son. She had been in a tent in a park in the city centre when the new earthquakes hit.
Ali Mazlum, 18, told AFP news agency he had been looking for the bodies of family members from the previous earthquakes when the latest tremors hit.
"You don't know what to do… we grabbed each other and right in front of us, the walls started to fall," he said.
In the city of Adana, the latest earthquake drove people to a volleyball centre that had been converted into a rescue centre following the first earthquake.
The authorities have told the BBC they believe as many as 600 people may have arrived overnight – seeking a sturdy, ground-level building in which to take shelter.
When the quake struck, people were reported to have run out into the streets rather than staying put, reflecting the fact that there is still significant fear two weeks after the initial disaster.
In Syria, some 470 injured people are said to have visited hospitals after Monday's quakes, which were also reportedly felt in Egypt and Lebanon.
In a visit to Turkey on Monday, US Secretary of State Antony Blinken announced $100m (£83m) in humanitarian aid, saying that America would help with earthquake recovery "for as long as it takes".
It is one of several countries to have offered its help in the wake of the first earthquake.
Rescue operations had recently been wound down in all but two areas, with hopes of finding people alive fading fast.
Source:bbc.com